Private transfer
The great Australian road trip
Whether you're embarking on an epic cross-country adventure or zipping off for a quick weekend away, if you don't own your own wheels (or don't want to drive your car interstate) then you'll need a hire car for your great Australian road trip.
But there are lots of traps with hiring a car, from hidden fees and charges to paying for damage you haven't even caused.
The ACCC is taking a closer look at the industry, with a Europcar franchisee in Tasmania already having been fined $200,000 for overcharging customers for hire car repair costs.
Car hire companies taking you for a ride
If you're the sort of person who's no longer shocked by exorbitant credit card surcharges, admin fees, and insurance upsells, hop onto a car hire website and revitalise your senses. Car hire companies happily flash you their cheapest no-frills price before piling on extra fees and charges.
For example, AVIS was caught red-handed by the ACCC and forced to change its website as mandatory charges such as an administration fee and the GST were not included in the advertised prices.
Reducing your excess in case of an accident can nearly double the cost of the car hire. For example, to hire a basic economy car from Hertz for a week in Melbourne costs $28.90 a day, but to reduce your standard excess to $500 from an excess of $3,500 you'll be slugged an additional $25 a day.
Why should you reduce your car hire damage waiver?
Even if you consider yourself a safe driver it's a good idea to reduce the car hire damage liability. The excess charged in case of damage or accident can be exorbitant, especially if you have a 'single vehicle accident' (for example, hitting a kangaroo on your great Australian road trip through the bush).
If you hire a prestige vehicle from Hertz, for example, there's a standard excess of $5,500 and the single vehicle excess can rise to $4,400 for a 4WD vehicle. So should you choose to splurge on the BMW X3, you'll face an excess of $9,900 for a single vehicle accident.
What is the cheapest way to reduce the car hire excess?
There are rental car insurance alternatives that work out to cost considerably less on a daily basis than those offered by car hire companies:
On a seven-day trip to Melbourne for example, Tripcover charges $22 a day for $6,000 of cover to reduce both the standard and single vehicle excesses to nil.
The catch? You may have to pay the excess amount upfront to the car hire company and claim it back from the insurer.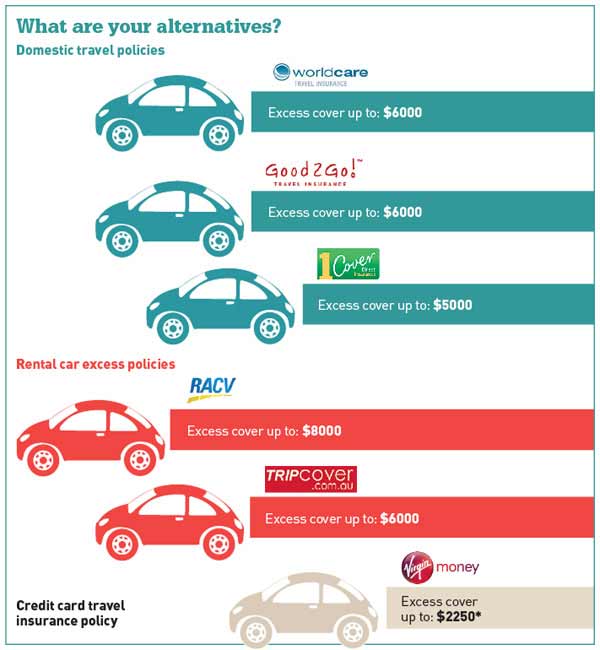 Top tips for renting a car
Before the hire
Read contract terms and conditions before you select a rental company.
Inspect your vehicle carefully in the presence of a sales assistant before taking possession of your car. Make sure all pre-existing damage, no matter how minor, is documented.
Photograph vehicles at the beginning and end of hire. Try to time stamp the photos, and if possible, get the sales assistant in the photos too.
Ask for information about what to do in the event of a breakdown or accident.
Find out whether you need to bring the vehicle back with a full tank and what is the charge per litre if you don't.
During the hire
Contact police if you think the vehicle is unroadworthy.
If the vehicle breaks down during the rental or you have an accident, follow the company's procedures. Don't have it repaired without approval.
After the hire
Hose down your vehicle before returning it so that any potential damage is visible.
Fill up the vehicle as close to the drop off as possible and keep your receipt to avoid a refuelling fee.
To avoid having to pay for someone else's misdeeds, aim to return your car during opening hours.
Get a company representative to inspect the vehicle in your presence immediately upon return.
If there is no damage, the ACCC suggests you ask for a written statement noting that the car was returned undamaged.
Work out any disputes for damages on the spot.
If you have a complaint, contact your local fair trading/consumer affairs office for advice.
Avoid extra costs
e-TAGs
If driving in the Eastern states, look into your e-TAG options in advance – in many cases it is cheaper to buy a visitor's pass or pay as you go than to rent an e-TAG with your car.
Airport (premium location) surcharges
Wherever possible, avoid hiring and dropping off your vehicle at airports. In many cases, CHOICE found that car rental companies slap a huge premium location surcharge (up to 23% in some cases) on the total bill, including the cost of an accident, so you may be paying hundreds of dollars for convenience. Consider taking a taxi or public transport to a cheaper location.
Online bookings
Familiarise yourself with hidden fees and charges by doing a dummy run through the online booking system of the companies you're considering.
One-way trip surcharge
There may be a surcharge for one-way car rental, where pick-up and drop-off are at different locations. It's not always charged, but check first.
Other fees to watch out for
Fees for additional kilometres (if it's not an 'unlimited kilometres' deal).
Administration fees.
Government stamp duty.
A surcharge for drivers under 25.
Hire of equipment such as a baby seat or GPS navigation device.
GST — even these days, GST isn't always included in all listed prices.
A credit card surcharge may cost between 1.5-5%.
Consider a car share scheme
Car share schemes have become increasingly popular with people who need occasional access to a car.
GoGet  are leaders in the market, with cars parked in hundreds of locations around Melbourne, Sydney, Brisbane and Adelaide. Flexicar is a second option for Melbournites.
Even with application and monthly fees, the rates are often better than rental cars, and petrol is free.
Exclusions in insurance policies are minimal, and standard and reduced excesses are cheaper than most of the car rentals.
Costs
Rental cars start at $20/day but vary widely depending on duration of rental, location and extra surcharges such as for airport pick-up. Full excess cover from the car company can cost up to $40/day, domestic travel insurance is often the cheaper alternative and can cost around $25/day.